Thanks to the experiences, collected during the residence in Theater Expedition Metropolis, Berlin, we could develop our work further to the expedition in Abruzzo, Italy. Using the performative narratives, improvisations, musical and artistic pieces, we were able to transfer our project to a more specific situation, community and environmental urgency. Therefore in July 2021, we have organized ON URGENCY*NESTING to two specific places in Abruzzo (Città Sant'Angelo and Pineto).
ON URGENCY*NESTING was conceived by Daniela Marcozzi to respond with theatrical mediums to the urgent and drastic deterioration of the marine environment in her home region Abruzzo, along the Adriatic coast.
One day I started to collect garbage, like many other people do. This action was held by an organic balance between active and passive, happiness and despair, between contraction and elongation, decision and laziness, control and release, nature and culture, artist and person. Beyond moralizing, beyond the politicization of ecological practices, beyond guilt and the uncertainty of the future, beyond the colours of recycling, my deep self is still there, picking up trash, like Sisyphus happily pushing the boulder up the mountain.

D. Marcozzi, "The 6-levels of the ACTION"

With the aim to work in direct contact with water pollution and with the local community in some municipalities of the region, we developed a new set of surveys to explore the relation between human and environment and its urgency (the urgency of the relation, and/or the urgency of the person, and/or the place itself).
FIRST PHASE OF THE EXPEDITION (May 2021)
We have contacted local communities, schools, associations and distributed the surveys to the community. This phase allowed us to establish a first contact with the community, the geography and history of the places as well as to rise the interest and curiosity in the project.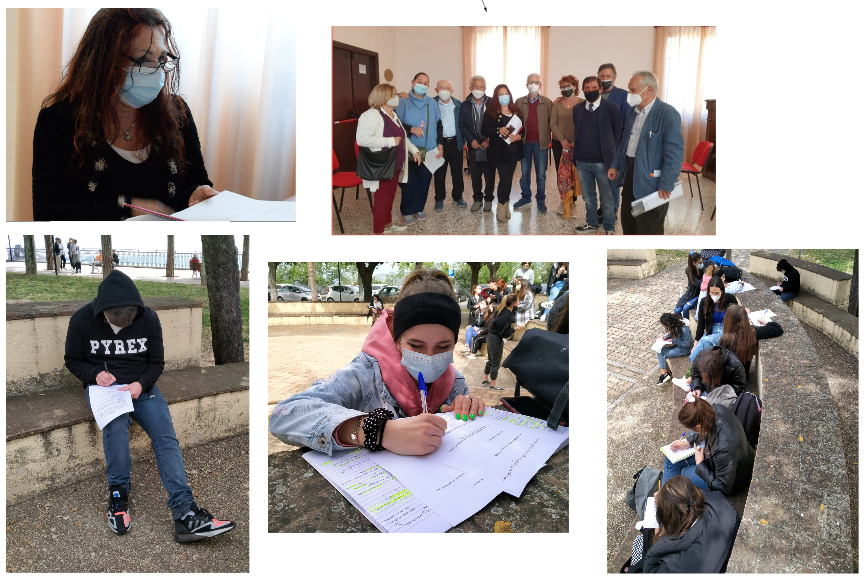 SECOND PHASE OF THE EXPEDITION (July 2021)
We have organized an international and immersive residency in which the components of Marcozzi Contemporary Theater worked with local artists and in collaboration with several associations (Arotron Theater School, Cirque Brutal, theater company CuntaTerra) and with the support of the municipalities of Città Sant'Angelo (PE), Pineto (TE) and Pianella (PE).
Inspired by the places, their history and by the survey's replies, we have created site-specific performances and concerts on the beach and in the street of the historical centre of Città Sant'Angelo. We have welcomed local people (who also replied to the surveys) to participate in some phases of the artistic process, as well as some young student-artists interested in the process.